Canada's legal cannabis market has soared since the introduction of adult-use sales on Oct. 17, 2018. In 2019, sales of adult-use cannabis neared $1.2 billion while medical continued to grow nationally, though signs of a coming contraction in that channel became apparent as the year ended.
Even so, the market is growing more slowly than the forecast in "The State of Legal Cannabis Markets, 8th Edition" published earlier in 2020 by Arcview Market Research and BDSA. In accordance with this slower than anticipated growth, the forecast for 2020 adult-use spending has been adjusted down to $2.1 billion from the previous forecast of $2.4 billion, while medical spending in 2020 has been adjusted down to $402 million from $470 million.
The footprint of adult-use retail grew substantially nationwide in 2019, though most provinces continued to lag behind Alberta, which now has more than 500 cannabis retailers and 200 pending licensees. The introduction of "Cannabis 2.0" in the fourth quarter of 2019, which introduced products beyond flower and oil, had no appreciable impact on sales in that quarter and little effect on first quarter 2020 sales, primarily due to limited supply of these new products on retailer shelves. Additionally, the emergence of COVID-19 in early 2020 has had a mixed impact on cannabis in Canada.
In Canada, cannabis is available via online retailers for both adult-use and medical channels, and adult-use cannabis is also available through brick-and-mortar retailers in each province. While most provinces declared cannabis an essential service, Ontario initially shut down its retailers then revised that stance in April to allow curbside pickup. So, although Canada saw year-to-date growth of nearly 160% versus the previous year through May 2020, sales would likely have been higher if not for the COVID-19-related disruption in Ontario and other provinces.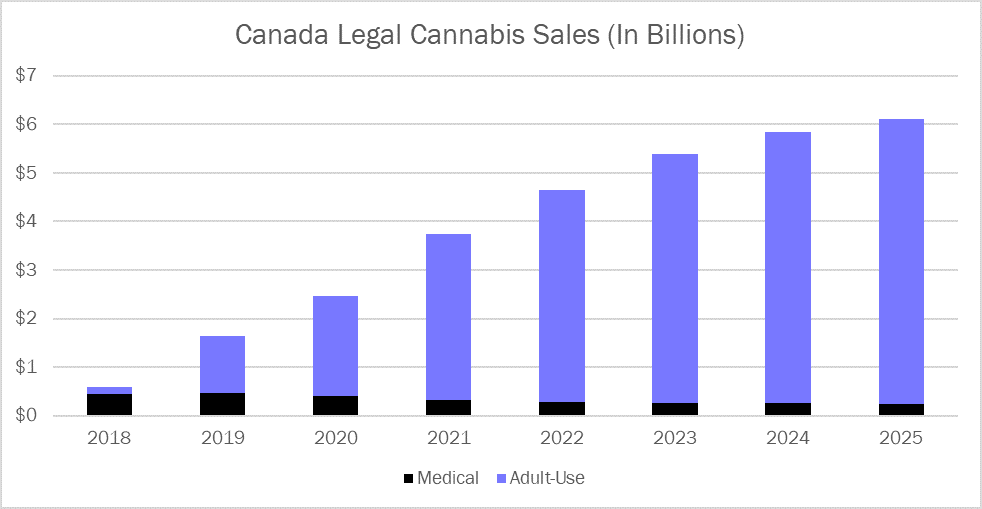 It has been clear for some time that medical cannabis in Canada was beginning to wane, especially in Alberta where the adult-use market showed rapid growth due to a strong retail expansion. Canada's registered patient count reached nearly 370,000 in September 2019, but it began a steady decline through the fourth quarter of 2019 and first quarter 2020. By March—just six months later—patient count had declined to just over 329,000.
Many had expected medical cannabis in Canada to remain strong, or even continue to grow, with the advent of adult-use—contrary to the experience in U.S. states that have transitioned from medical to adult-use markets, but plausible given Canada's national availability, liberal qualifying conditions, and the potential for coverage by public or private insurance. The forecast presented earlier in 2020 struck the middle ground, showing relatively gentle declines in registered patients and spending through 2025.
But, every province reported a decline in registered patients for the first quarter of 2020—even Quebec, which saw strong growth in 2019. Quarterly medical spending data from the government showed declines of -3.8% in fourth quarter 2019 and -3.3% in the first quarter of 2020.
Despite the larger than anticipated decline in medical sales, Canada will remain the second-largest legal cannabis market in the world through 2025—and the single largest market with national-level legalization. Total spending is forecast to reach nearly $6.1 billion in 2025, growing at a compound annual growth rate of nearly 25% from just over $1.6 billion in 2019. Adult-use sales are expected to account for nearly 96% of total legal spending in 2025.