BDSA's Chief Executive Officer, Micah Tapman and Vice President of Insights and Analytics, Kelly Nielsen recently joined Canaccord Genuity's Bobby Burleson for a lively discussion surrounding BDSA's latest market forecast. Here are the highlights!
Included in the market forecast is a full year of COVID-19 data, making this forecast more accurate with regard to the impact of COVID-19 on cannabis sales around the world. This update also comes after the most recent U.S. election, which saw the democrats take the presidency, the House and the Senate—significantly changing the outlook for legal cannabis in the U.S.
The legal cannabis market saw growth across the board in 2020, with growth of about 45 percent in both the U.S. and global markets. Below, we dive into where this growth is coming from.
Consumer Penetration Growth
The first dynamic that we are seeing is consumer penetration growth. Consumers are more apt to be purchasing and using cannabis than in the past, which speaks to the resiliency of the cannabis industry—despite the COVID-19 pandemic—and also takes into account the legislation that has allowed more states to come online and therefore enabled a wider availability of product

When we take a look at all of our legal states, 43 percent of the population is already consuming. An additional 30 percent are open to consuming, even if they haven't yet. The rejecters to this category (those who would not consider buying nor using cannabis in the future), are really becoming the minority within those populations. As we think about the acceptability of this industry, it just continues to grow.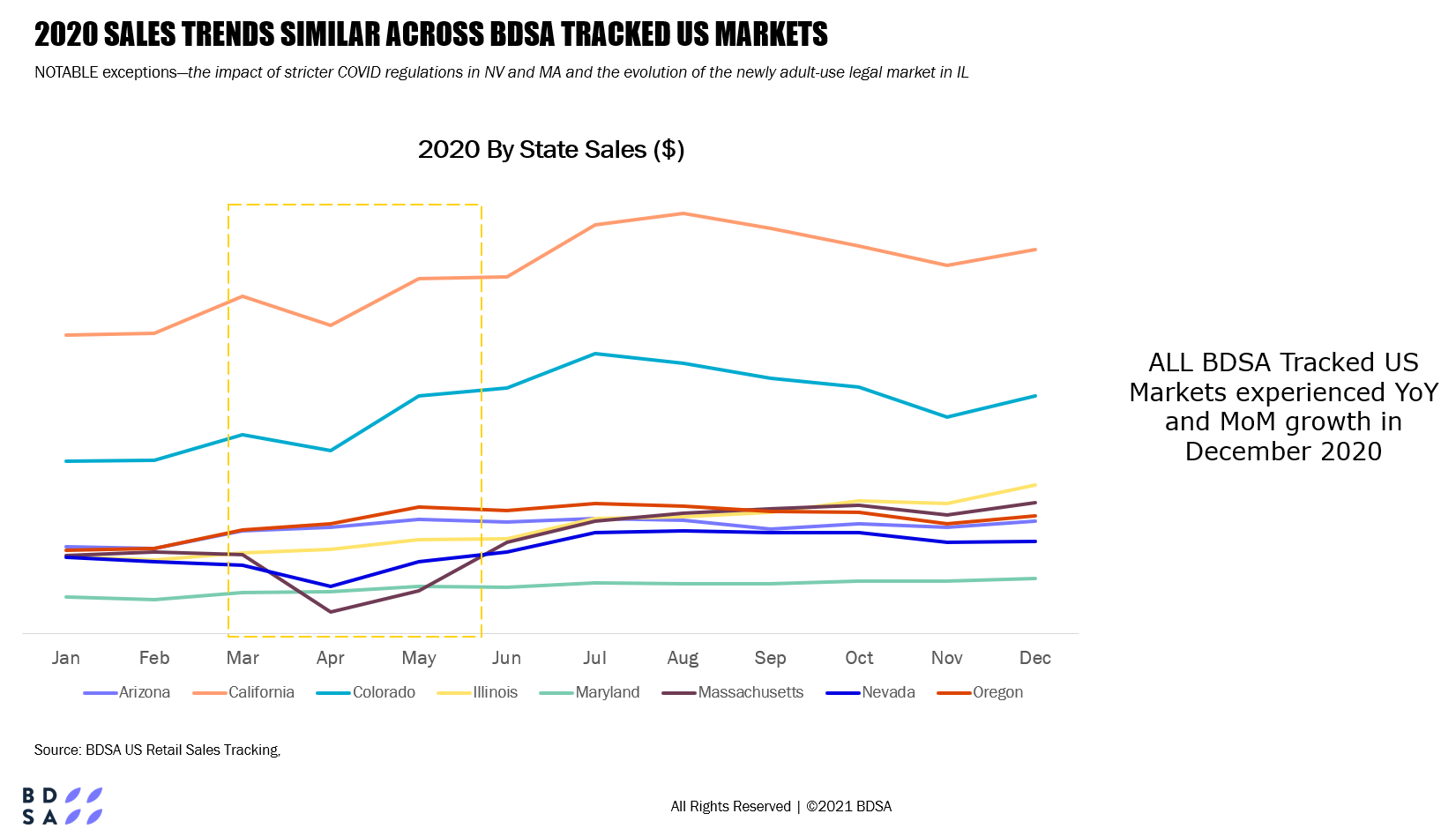 Eight Key States
BDSA identified similar trends across Arizona, California, Colorado, Illinois, Maryland, Massachusetts, Nevada and Oregon in 2020, with each experiencing a boost in sales in the second half of the year. The March-May timeframe (in nearly all markets) shows a decline, as this was when COVID-19 was really impacting the marketplace due, in part, to store shutdowns.
Nevada and Massachusetts are a couple notable exceptions to this trend. Nevada was particularly impacted by the downturn in tourism last year, so it experienced a more significant dip in sales in the same March-May timeframe. Massachusetts was regulated quite heavily in the early days of the pandemic, shutting down recreational dispensaries across the board.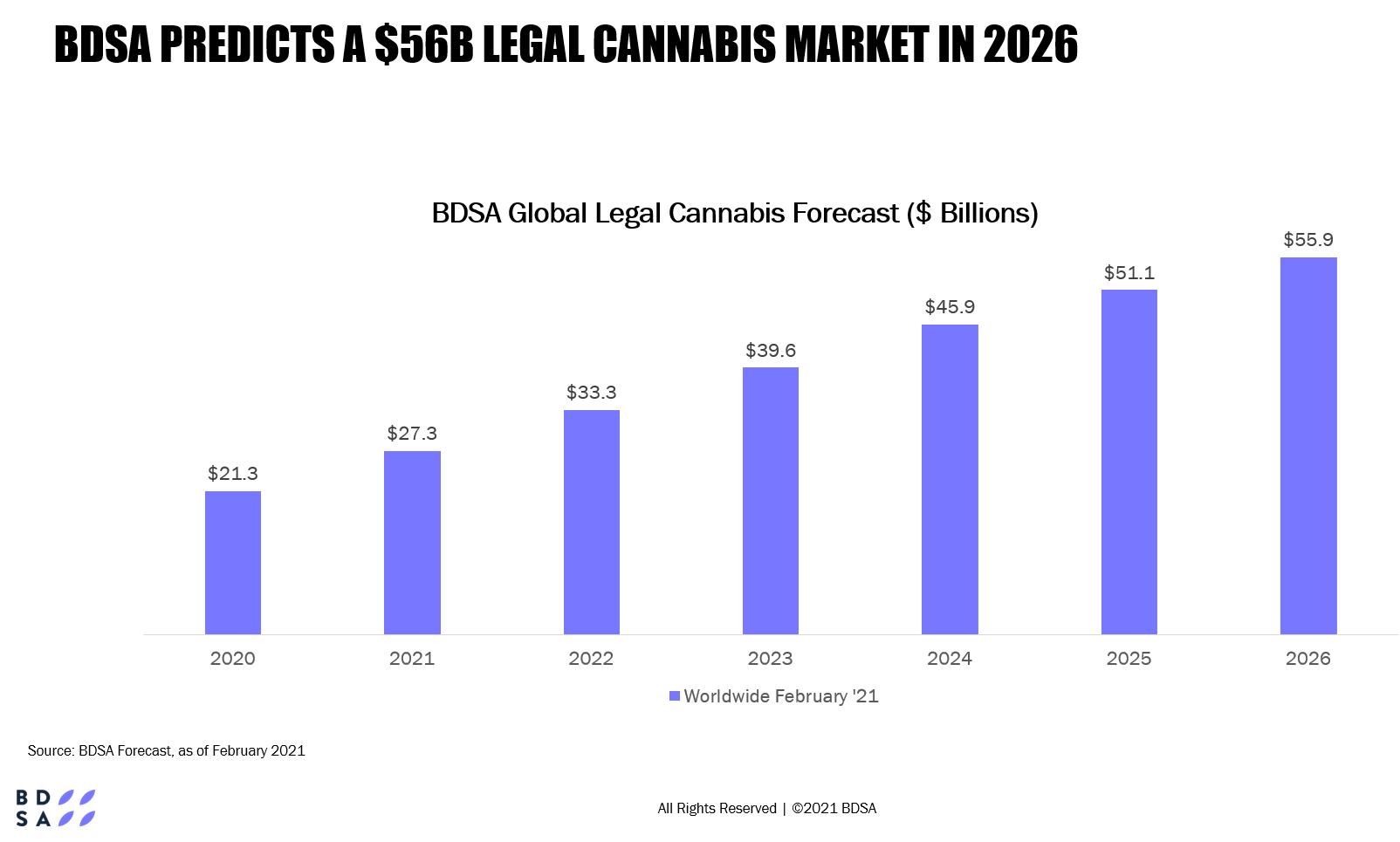 2020 Sales and Market Forecast for 2026
Global cannabis sales reached nearly $21.3 billion in 2020, an increase of 48% over 2019 sales of $14.4 billion. BDSA forecasts global cannabis sales will grow from $21.3 billion in 2020 to $55.9 billion in 2026, a compound annual growth rate (CAGR) of more than 17%. This growth is expected to be steady, roughly $6 billion annually.
Adult-Use Drives the U.S. Legal Market
The U.S. adult-use market will continue to increase substantially over the next several years. This growth is driven by numerous components, including increased consumer usage as well as regulation and legislation allowing for availability of product. In addition to that, the U.S. medical market is also expected to grow slightly, but it's expected to level off as the adult-use market begins to take form.
Top 10 Contributors to Growth in the U.S.
Over the next couple of years, BDSA expects California, New York, New Jersey, Florida, Ohio, Maryland, Nevada, Massachusetts, Missouri and Arizona to have the highest contribution to growth to bring the U.S. from a $17.6 billion dollar legal system to $41.2 billion in 2026.
New Jersey recently legalized cannabis. Something interesting to point out is that the governors of Pennsylvania, New Jersey, New York and Connecticut have all promised to work together on legalization. BDSA considers New Jersey the tipping point to get these other states over the threshold when it comes to adult-use cannabis legalization, and expects many of those states to be in our top 15 in terms of overall contribution to sales, as the northeast is such a densely populated area.
Bringing cannabis across state lines is still a no-go as long as the federal government is concerned, however, as soon as legalization happens it would make sense for a tri-state area like New York to allow interstate commerce. BDSA would also expect a similar compact to form on the West Coast between Washington, Oregon and California (with the assumption that Nevada would join in as well).
U.S. Federal Legalization
One of the most interesting things that came out of the COVID-19 pandemic was that cannabis was considered an essential service in virtually every state, which was both validating on the medical marijuana front and indicative of the change that's happening nationwide. For now, cannabis is still federally illegal in the U.S., but this is a leading indicator that federal legalization is on the horizon.
BDSA predicts federal legalization will happen in 2022, but still assumes it will be a state-by-state rollout and that there will be state-by-state regulation. In some cases there are states that are already saying they would prohibit the legalization of cannabis—Ohio just passed something along those lines in the past couple of weeks. Other states want to try to keep that revenue in-house as they've spent a lot of time building infrastructures and want to make sure to continue to capitalize on their own internal systems. In addition, how regulation will be handled in some of the big population states, such as Texas and North Carolina, is going to be a big question in the next couple of years.

{{cta('1b283c19-2569-4cb4-969c-2d0392101401')}}