Our research on the roll-out of adult-use legalization in Canada, published today in the Cannabis Intelligence Briefing titled Canada Leads the Way on Global Cannabis Legalization, is the first research of its kind. The report models each of the 10 Canadian provinces individually. At a countrywide-level, consumer spending is now forecast to grow from $569 million in 2018 to $5.2 billion in 2024.
That's a more conservative view than our past forecasts for several reasons that extend beyond the late start for adult-use sales, postponed from July to October 17. Statistics Canada's estimates suggest that the average adult-use consumer spent only $22 in those brief two and a half months of sales in 2018.
But it wasn't just the short time period that kept adult-use spending constrained. Product shortages such as those typical of early days of adult-use sales in the six US states that preceded Canada into the adult-use era (Colorado, Washington, Oregon, Alaska, Nevada and California) were, and continue to be, a major hold-back on market growth. Hence our forecast only has per-consumer growing to $110 per adult, non-medical consumer in the full year of 2019.
Ch. 1 Canada Legal Spending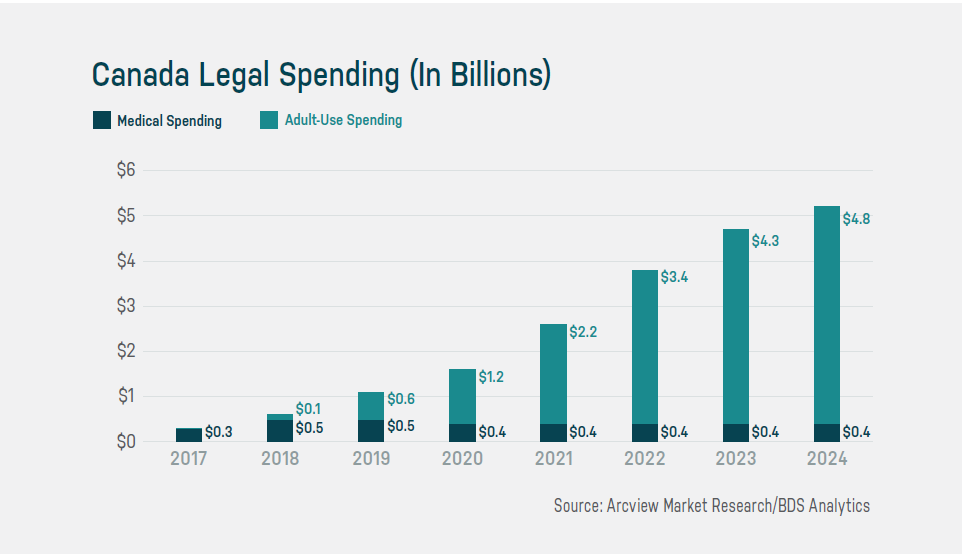 In the US states referenced, similar product shortages were quickly followed by a flood of product as market growth took off. In Canada, shortages will likely ease for flower product in the near future, given the enormous inventories the country's Licensed Producers (LPs) have in stock, according to Health Canada.
But there are some unique characteristics of the Canadian market that are likely to continue to crimp growth to levels substantially below the 50%-90% compound annual growth rates (CAGRs) seen in Colorado, Washington and Oregon in their first three full years of adult-use sales.
First of all, wholesale distributors are the provinces themselves, each of which holds a monopoly on both ecommerce to adult consumers within their borders and the transfer of product from LPs to stores. Most US states allow either vertical integration, direct sales from grower to store, or in the case of California's mandatory wholesale distribution model, at least has licensed multiple distributors who compete aggressively to get product delivered quickly and cheaply.
Secondly, Canada shares with California the problem of too few stores spread far too thinly across massive geographies and huge populations. Like California's cities and counties, Canadian provinces generally control the number and type of retail stores, and growth in store count is likely to be slow.
Thirdly, only dried cannabis and oils are currently available for purchase in licensed adult-use retail outlets across the country. Regulators, as part of the Cannabis Act, have set October 17, 2019—a year after adult-use sales began—as the date when legal sales of concentrates and edibles can commence. Metrics from similar transitioning US state markets show that product expansion beyond flower is a key driver of overall growth. In Colorado, according to BDS Analytics' GreenEdge™ retail sales tracking platform, concentrates accounted for 32% and edibles 14% of total sales in 2018. These are increases of 17 percentage points and 11 points, respectively from 2014, the year adult-use sales began in the state.
Finally, for all the inventory sitting at LPs, reportedly high-quality, high-THC flower of the type that appeals to heavy consumers in illicit markets everywhere, and legal adult-use markets in the US, is hard to find in stores. Savvy consumers are lined up on known weekly delivery dates to buy it all up that day, leaving only lower quality flower – or worse yet, none – on shelves the rest of the week. Some stores have taken to cutting their hours or days of operation in response.
The impact of all this varies province-by-province, as detailed in the report. But taken together, it's plenty reason for adopting a more cautious view about the growth of the domestic cannabis market in Canada.
Post by Tom Adams, Principal Analyst, Industry Intelligence Group