A high-level understanding of cannabis markets is key for any business looking to succeed in the industry. But as legal markets mature, those in the highly competitive cannabis retail space need a more detailed view of consumer behavior and purchasing trends to stay ahead of the curve. BDSA offers a variety of tools to help retailers and brands make informed business decisions.
Retail Sales Tracking provides a granular view of sales trends, category mix and brand/product performance in 10 U.S. cannabis markets. Consumer Insights gives a detailed look at consumer demographics, preferences and behaviors. Now, BDSA's new Basket Analytics product gives a comprehensive view of per-transaction purchasing dynamics.
With these products, businesses can gain a deeper understanding of who their consumers are, what products they buy, when they buy them and exactly where market growth is coming from.
Even with the many disruptions of the past year, the U.S. cannabis market grew to total $17.6 billion in 2020, almost a 50% year-over-year increase in sales. While a good deal of this growth is due to new markets coming online, the expansion of the consumer base in existing markets also contributes to significant growth. According to BDSA Consumer Insights data, the share of respondents in Colorado who report consuming cannabis in the past six months grew from 42% in Fall 2019 to 48% in Fall 2020. These new consumers play a powerful role in cannabis markets and tools like BDSA's Consumer Insights can help executives tailor their products and sales strategy to better target the consumer mix in their respective markets.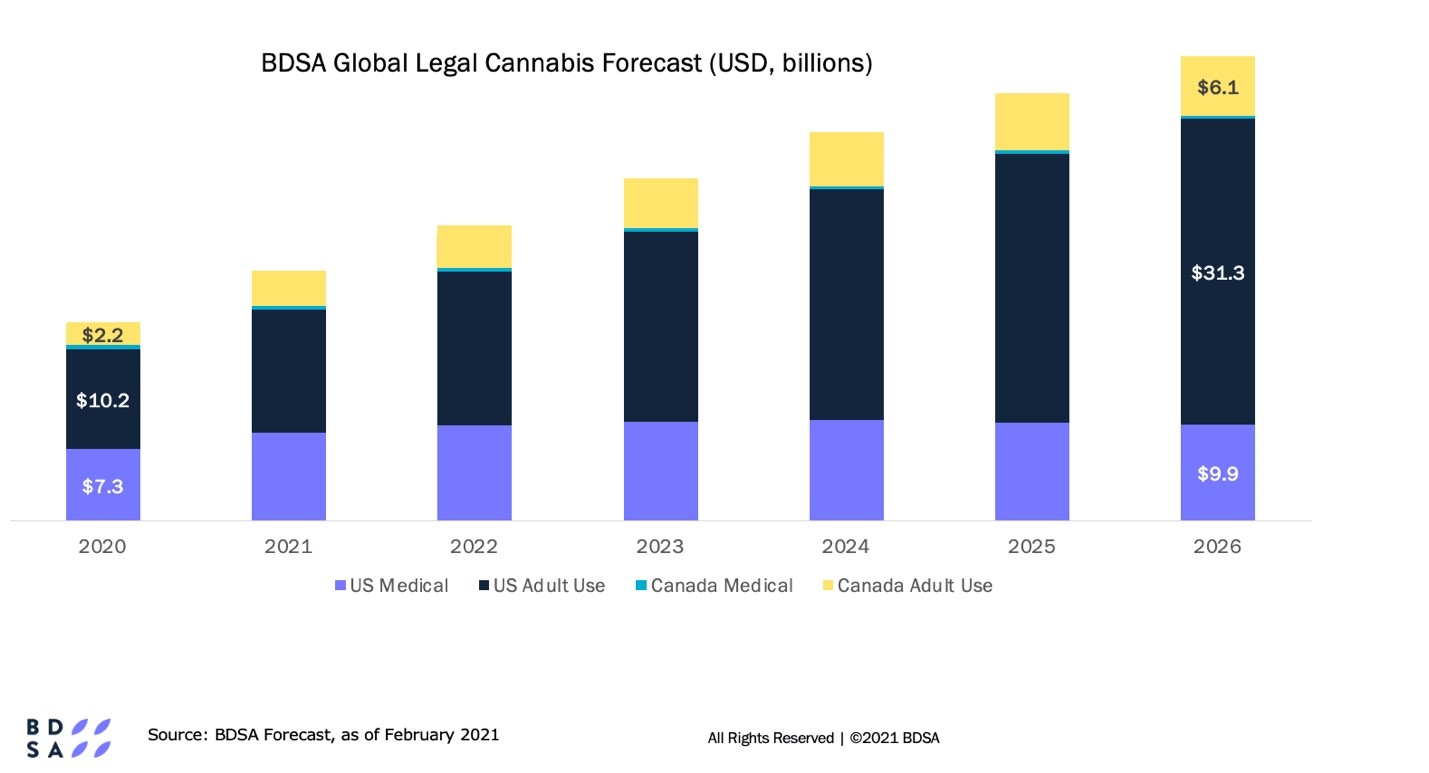 Beyond knowledge of the overall consumer mix in each market, it is also important for industry players to understand when consumers are engaging with their products. Before the disruption brought by COVID-19 in 2020, cannabis markets could be expected to see a jump in sales in March, coinciding with Spring Break, followed by a larger surge in sales in the Summer with monthly sales peaking in the month of August. Interestingly, this Summer sales surge is much more pronounced in states that experience colder winters than in states with more temperate climates such as California and Nevada.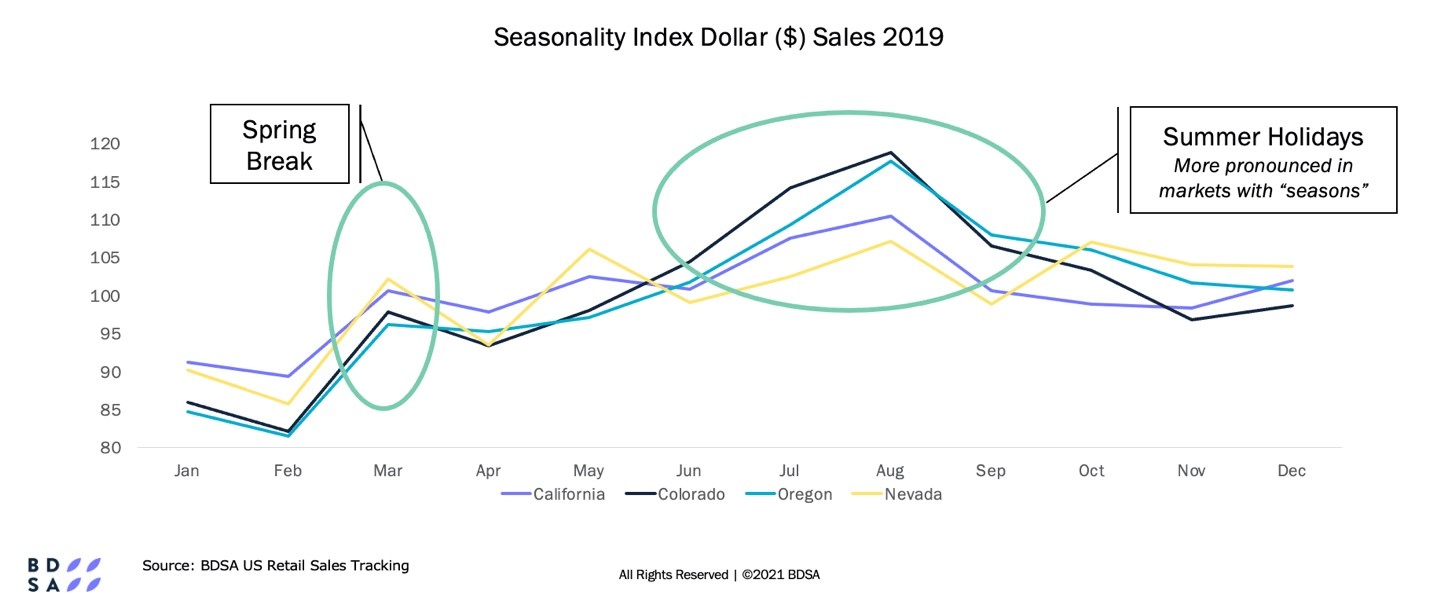 COVID-19 and its resulting stay-at-home orders significantly upset the usual trend of seasonality, with sales in the Spring especially sluggish compared with past years. However, most states still saw steady growth in monthly sales beginning in June—leading to substantial year-over-year growth, with most adult-use states seeing double-digit growth.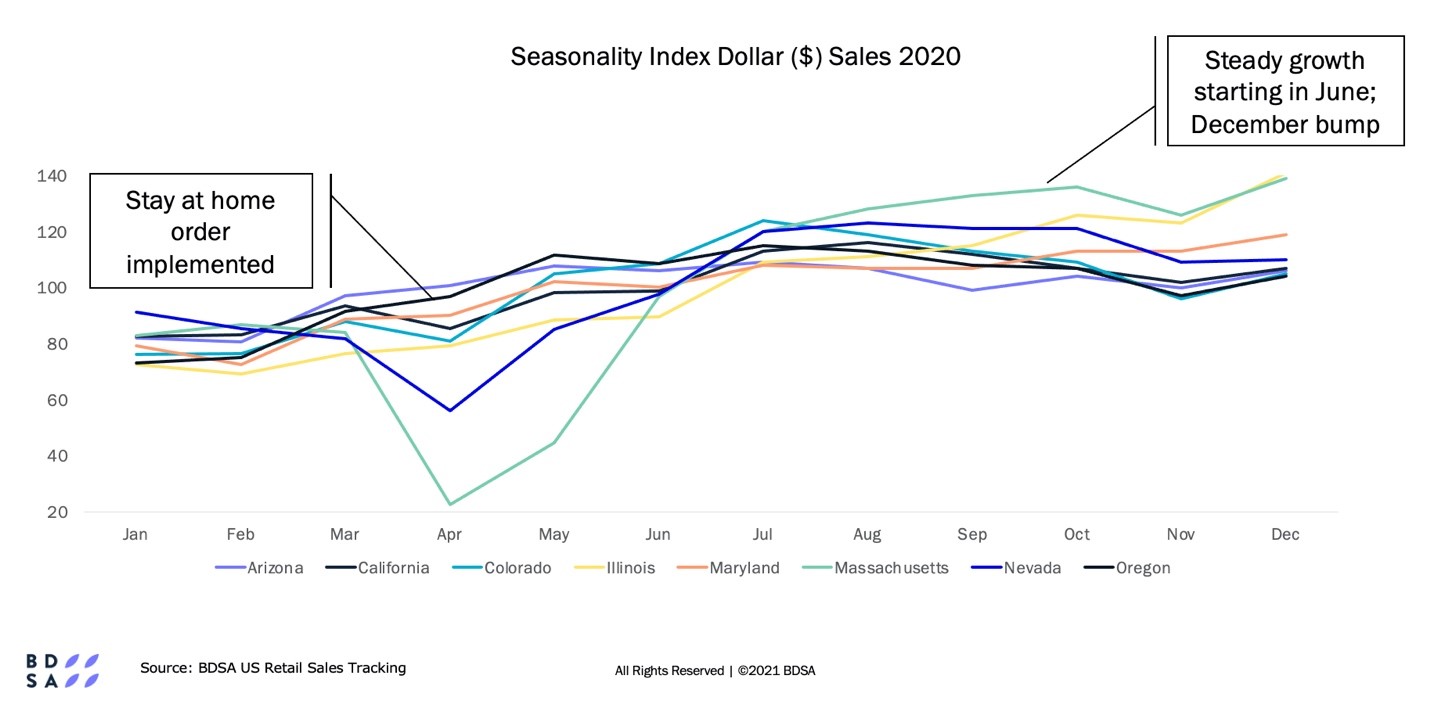 Basket analysis can help manufacturers and retailers discern key drivers of growth. Between Q4 2019 and Q1 2020, Colorado saw average daily transactions increase by 48% and basket size fall by -11%, which is somewhat expected given how consumers stocked up as COVID-19 lockdowns went into effect. As the year progressed, basket size fell, and daily transactions rose significantly. Retailers and manufacturers can build a strategy to cater to this low-basket size, high-transaction volume trend in purchasing behavior.
For Retailers:
Employ marketing targeted at key consumer segments to drive traffic to your store.
Use promotional tactics such as bulk discounts to increase basket size.
Ensure that retail spaces are prepared for high traffic.
For Manufacturers:
Expand product availability—widespread product availability is a key feature of top-selling brands.
Market effectively to drive brand recognition and capture consumer interest in the retail setting.
Succeeding in increasingly competitive cannabis markets requires manufacturers and retailers to have a dynamic strategy to respond to a growing consumer base and ever-shifting purchasing trends. Tools such as BDSA's Retail Sales Tracking, Consumer Insights and Basket Analytics give businesses the ability to gain a deep insight into consumers in their market and make informed decisions when tailoring strategies for distribution, retail planning, marketing and in-store promotions.
{{cta('1b283c19-2569-4cb4-969c-2d0392101401')}}