The Year Ahead – The Cannabis Industry in 2021. 
 The past year was an eventful one for the cannabis industry. Despite the raging COVID-19 pandemic, which took center stage in the spring and expanded with a vengeance in the Fall, cannabis fared very well—with a number of monthly sales records set during the second half of the year. The industry saw little negative effect from the pandemic itself, mainly in Massachusetts and Nevada, and even some benefit—online ordering and delivery received a massive boost across many U.S. markets. 
With 2020 in the rearview, we look forward to the challenges of 2021 with optimism. The industry is growing rapidly in both the U.S. and Canada and expanding around the world at an increasing pace. BDSA has compiled a list of key trends and milestones to look for in the year ahead. These include a U.S. market expected to top $24 billion, 3 million new cannabis consumers and the rapid growth of secondary cannabinoids such as CBD, CBN and CBG. 
Download BDSA's "Top 10 Cannabis Predictions of 2021". 
.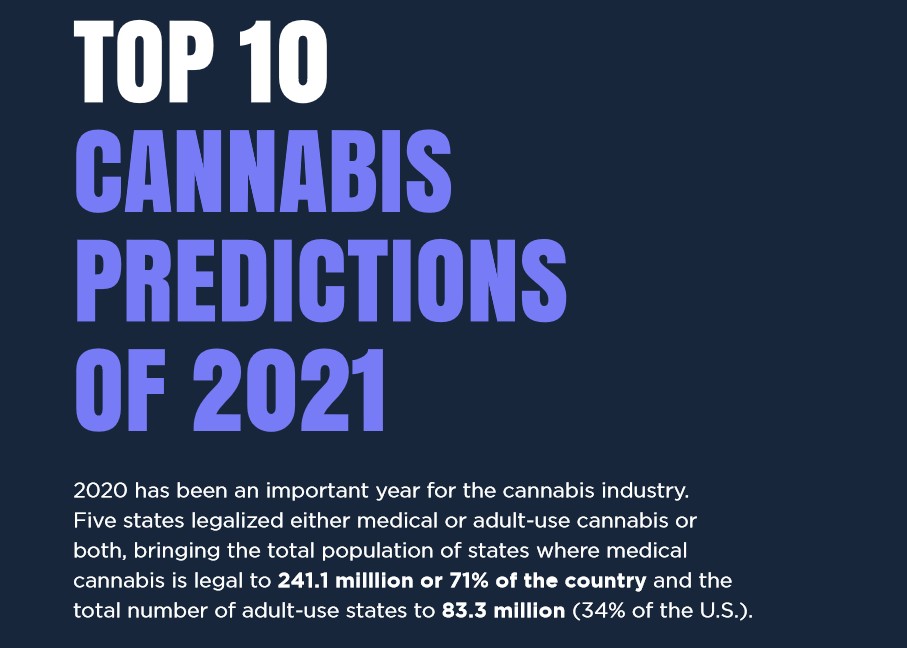 {{cta('2e9d18c9-e57b-4600-aa90-4ef69c2dbf09')}}